Have you checked your battery? If it looks like this - It's bad!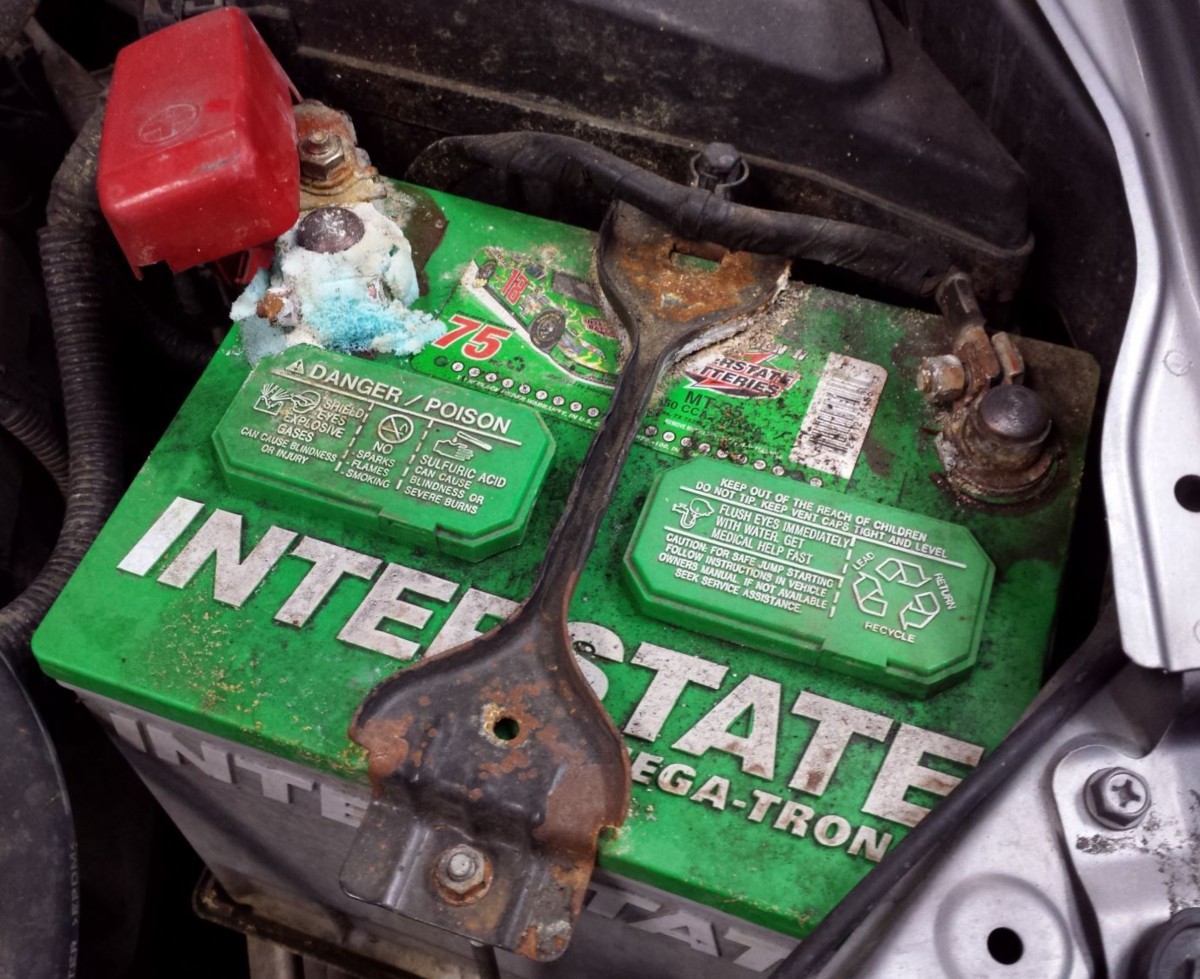 When you are having trouble with your car or truck starting and you open the hood up to take a peek to see this....you'll see what an overly corroded battery looks like. This happens naturally over time on vehicle battery terminals. If you are like 99% of normal Mesa serving: Mesa, Gilbert, & Apache Junction drivers, you don't check your oil or your battery so you don't keep an eye on the amount of corrosion that's building up on your car or truck battery. Here at Mercie J Auto Care, we do and there are solvents that we can use here in the shop during a battery maintenance service that will help slow the corrosion process but nothing that can prevent it 100%. Way before it gets to this point, we will be suggesting you consider replacing the battery.
Manufacturers say your battery is good for 5 years, but here at Mercie J Auto Care we don't believe this is the case. That 5 year life span is set by the manufacturer with the battery only being used to start the vehicle. This does not take into account any "extras" being turned on, you know, the computer systems, the lights and radio, those extras or how you use your vehicle. Since most of us use those optional and non-optional items, we should really be changing our battery every 3 years OR checking it often at that time.
Mercie J Auto Care, we believe in preventative maintenance and solving problems "before" they become a larger issue such as having serious starting, charging and drivability issues. If your battery is newer than 3 years and you have to jump it more than once (after a long sitting period or other non-daily driving reason) we first suggest checking the cable connection and coming into the shop to have your battery tested.
It is an affordable option and will keep you from being stuck on the side of the road or in a dark parking lot in bad weather. Trust your automotive and truck technicians at Mercie J Auto Care in Mesa serving: Mesa, Gilbert, & Apache Junction, AZ where safety comes first going hand in hand with customer service! We are here to keep you driving safely longer and to keep your repair bills down!
_________________
Thank you for visiting Mercie J Auto Care in Mesa serving: Mesa, Gilbert, & Apache Junction, AZ where we love our customers and their kids! Expect Hot Wheels Racing, Great Customer Service & Excellent Mechanics who know how to fix anything that comes through these bay doors! Our goal is to have everyone of EVERY age to leave happy!
Schedule your appointment today (480) 830-9445 or REQUEST APPOINTMENT HERE.
Tags: Automotive Repair, Truck Repair, Car Repair, Diagnostics, Car Care Tips