Our Promise to You
Our purpose is to serve you and solve your problems. We promise to treat you with respect, courtesy, and kindness. We promise to do business with you in an honest manner with integrity, fairness, and your best interest in mind. We promise to use high quality parts with up to date repair procedures.
If Something Goes Wrong
Our mission statement is, "Mercie J auto care llc, where satisfactory service is not enough, we strive to be above our clients expectations."
Our goal is your complete satisfaction with your entire repair experience. If we fail to meet our goal for any reason, here is what you can expect. If you are not satisfied for any reason, please contact us immediately, you will move to the front of the line and it will be our top priority to do everything possible to resolve the situation to your satisfaction. We don't anticipate you will have any problems, but if you do, we consider it an opportunity to show you how we really shine. We are so confident in our work that we offer a warranty of two years or 24,000 miles.
Thank you for placing your trust in us,
Rick Smith Michael Glandon
---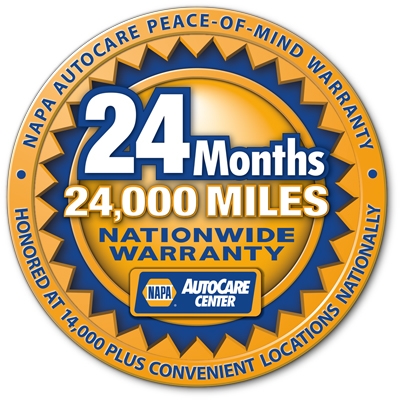 Our Warranty
Covers Parts and Labor on Qualifying Repairs and Services for 24 Months/24,000 Miles.
There's no greater peace of mind® than knowing you have one less worry by having your vehicles serviced by the professionals at your local NAPA AutoCare Center. They stand behind their work with the NAPA AutoCare Peace of Mind® Warranty.
It's a written warranty that is honored at more than 14,000 locations nationwide - more than any other automotive repair brand. So - no matter where your travels take you - if you ever experience a problem with a covered repair, you can count on a NAPA AutoCare Center being nearby.