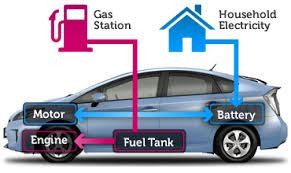 Quality Hybrid Repairs You Can Trust
You've chosen to drive a hybrid vehicle for a reason. Whether you want the exceptional savings on fuel, the latest in technology, or the least environmental impact, your hybrid is a great choice for getting around Maricopa County. Your hybrid requires maintenance like any other vehicle, as well as repairs whenever problems occur.
For professional hybrid repairs in Mesa and the surrounding area, visit Mercie J Auto Care. With every visit to our shop, you'll be treated with the utmost courtesy while your hybrid repairs are completed accurately.
The Dealer Alternative for Expert Hybrid Repairs
When you trust Mercie J Auto Care for your hybrid repairs, highly trained ASE-Certified technicians will be servicing your vehicle. In business since 1995, we utilize the same technology as the dealership for a thorough diagnosis of all hybrid repair needs. Whether your Toyota Prius has a battery issue, your Chevy Volt has cooling system problems, or your Honda Accord Hybrid has transmission concerns, Mercie J Auto Care utilizes the expertise to handle the matter correctly.
You trust your hybrid vehicle only to a high-quality repair shop, so why would you settle for economy-grade parts? At Mercie J Auto Care, we always use OEM and name-brand aftermarket parts for hybrid repairs, ensuring long-lasting performance on the roads of Mesa and beyond. For your peace of mind, our hybrid repairs are covered by the Napa AutoCare Warranty.
For Reliable hybrid repairs throughout Mesa, AZ, trust Mercie J Auto Care. Call us today or request an appointment online.
Tags: hybrid repairs, hybrid, Mercie J, Mesa AZ, prius, volt, hybrid vehicle , Mesa