Winter Driving Preparation - Take it Easy!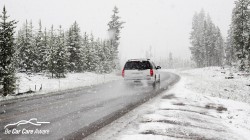 After two of the worst winters ever in many parts of the country, the Car Care Council suggests that motorists take a little extra time now to make sure their vehicles are prepared for the unexpected when weather arrives.
"The last two winters brought record-setting snowfall. That may sound like a winter wonderland, but many motorists experienced breakdowns because they did not take preventative measures to make sure their vehicles were ready for the elements," said Rich White, executive director, Car Care Council. "Taking the time now to have your vehicle checked will help you avoid getting stranded in sub-zero temperatures and facing a costly repair bill."
The non-profit Car Care Council recommends checking the following areas of your vehicle so it is road ready when severe winter weather strikes.
Check the battery and charging system for optimum performance. Cold weather is hard on batteries.
Check the antifreeze. As a general rule of thumb, clean, flush and put new antifreeze in the cooling system every two years.
Check that heaters, defrosters and wipers work properly. Consider winter wiper blades and use cold weather washer fluid.
Check the tire tread depth and tire pressure. If snow and ice are a problem in your area, consider special tires designed to grip slick roads. During winter, tire pressure should be checked weekly.
Check the oil and filter and be diligent about changing them at recommended intervals. Dirty oil can spell trouble in winter. Consider changing to "winter weight" oil if you live in a cold climate. Check the fuel, air and transmission filters at the same time.
Check engine performance before winter sets in. Winter magnifies existing problems such as hard starts, sluggish performance or rough idling.
Check the brakes. The braking system is the vehicle's most important safety item.
Check the exhaust system for carbon monoxide leaks, which can be especially dangerous during cold weather driving when windows are closed.
Check to see that exterior and interior lights work and headlights are properly aimed.
During winter, drivers should keep their vehicle's gas tank at least half-full to decrease the chances of moisture forming in the gas lines and possibly freezing. Motorists should also check the tire pressure of the spare in the trunk and stock an emergency kit with an ice scraper and snowbrush, jumper cables, flashlight, blanket, extra clothes, bottled water, dry food snacks and needed medication.
To learn more about winterizing your vehicle, view the council's Car Care Minute video and visit www.carcare.org to order a free copy of the 80-page Car Care Guide.
The Car Care Council is the source of information for the "Be Car Care Aware" consumer education campaign promoting the benefits of regular vehicle care, maintenance and repair to consumers. For a free copy of the council's popular Car Care Guide or for more information, visit www.carcare.org.
Have questions? We'd love to answer them here at the shop!
_________________
Thank you for visiting Mercie J Auto Care in Mesa serving: Mesa, Gilbert, & Apache Junction, AZ where we love our customers and their kids! Expect Hot Wheels Racing, Great Customer Service & Excellent Mechanics who know how to fix anything that comes through these bay doors! Our goal is to have everyone of EVERY age to leave happy!
Schedule your appointment today (480) 830-9445 or REQUEST APPOINTMENT HERE.
Tags: auto service, maintenance, winter driving