What did they hit? Does it pull a little to the left?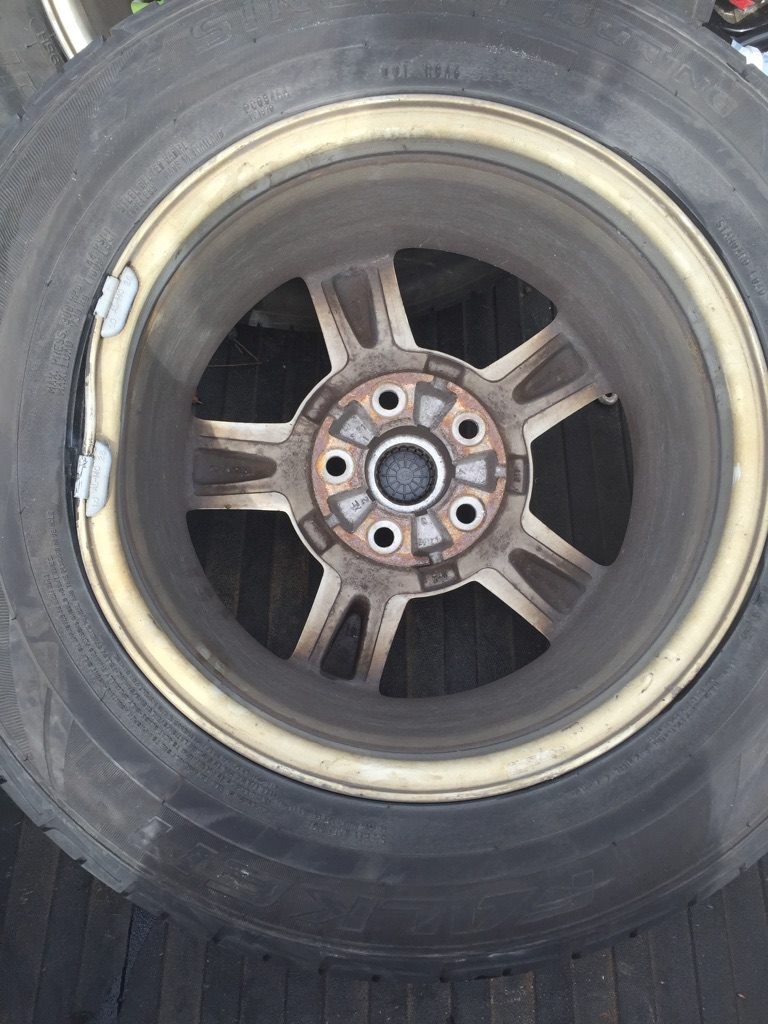 Simple service visits can discover all kinds of things you would think are obvious but we simply get in and drive! If the lights come on and the car starts....No Problem. Then we see things like this here at Mercie J Auto Care in Mesa, Gilbert, & Apache Junction and we have to ask...When did you hit something and WHAT was it. The typical answer is WHAT??? They've already forgotten the incident an don't realize that a bent rim could case all kinds of problems. Then we ask...Does it pull a little when you are driving?
That rim could cause your tire to leak air, your truck or car alignment will most certainly be affected and that results in uneven tire tread wear. Depending on how bad it is, there can be other damages as well.
The good news is that we can and will take care of it when you stop by the shop for your service visit. If we catch it in time then we avoid higher repair costs by doing a simple repair and get you on your way.
The bad thing is that if you have driven it too long avoiding your scheduled oil changes and service visits, you could be overlooking serious damage to your drive train, 4x4 components, and uneven tire tread wear as well. Serious damage means higher costs and no-one wants that!
Always look at your vehicle when you hit something unexpectedly or damage the rim of your wheel. Actually, its a good idea for you to take a look at your car or truck often just to see if anything is out of order, like a headlight or wiper blades not working. If you have any questions at all, a simple stop at our shop in Mesa, Gilbert, & Apache Junction will ensure there are no issues and you can drive away safe and happy. Thank you for choosing Mercie J Auto Care for your car and truck repairs!
_________________
Thank you for visiting Mercie J Auto Care in Mesa serving: Mesa, Gilbert, & Apache Junction, AZ where we love our customers and their kids! Expect Hot Wheels Racing, Great Customer Service & Excellent Mechanics who know how to fix anything that comes through these bay doors! Our goal is to have everyone of EVERY age to leave happy!
Schedule your appointment today (480) 830-9445 or REQUEST APPOINTMENT HERE.
Tags: tires, tire service, tire pressure, Flat tire