Why does my car AC smell like stinky feet?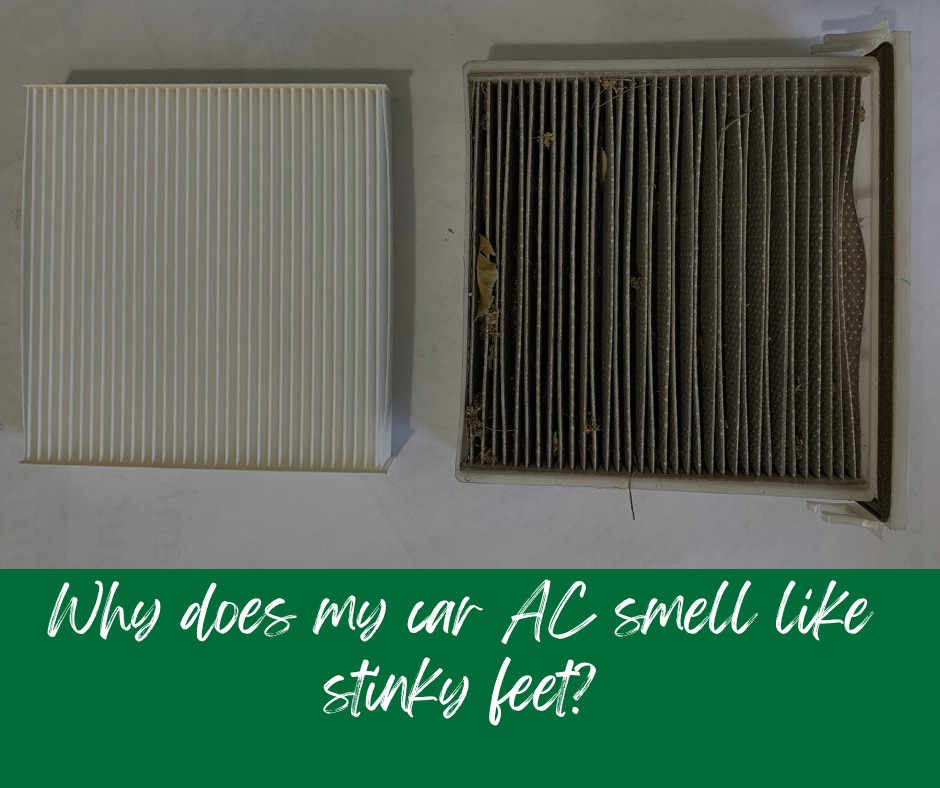 Does your car smell like an old dish rag or perhaps your teenage boys gym socks?
Does your car smell like an old dish rag or perhaps your teenage boys gym socks? Welcome to Mercie J Auto Care, where compassion and craftsmanship come together. I'm Rick Smith, master certified technician. Now if your car smells like your boys gym socks or a dirty diaper, perhaps you've got some gym socks, or dirty diaper in there. If you don't have any of that in there, we can get a lot of odor in our air conditioning system because it develops moisture and that can cause bacteria and mold growth and things like that. so one of the purposes of cabin air filters is they filter dust and particles so that they don't mix with that moisture in the system. There's a couple of other things you can do. There's some sprays you can get to spray in the system to get rid of the odors, but if your car has a cabin air filter, replacing it can help that often. Now some of the more expensive filters, if they're available for your particular vehicle make and model can have like a charcoal infusion in them that can actually deodorizer the air for you. Other ones are just a paper filter and we recommend replacing it regularly, but often times cabin air filter replacement can dramatically, improve the odor level in your car. So I hope this has been informational to you. Thanks for watching and until next time, blessings to you and safe travels.
_________________
Thank you for visiting Mercie J Auto Care in Mesa serving: Mesa, Gilbert, & Apache Junction, AZ where we love our customers and their kids! Expect Hot Wheels Racing, Great Customer Service & Excellent Mechanics who know how to fix anything that comes through these bay doors! Our goal is to have everyone of EVERY age to leave happy!
Schedule your appointment today (480) 830-9445 or REQUEST APPOINTMENT HERE.