Why are Vibrations and Noises hard to Diagnose on a Car?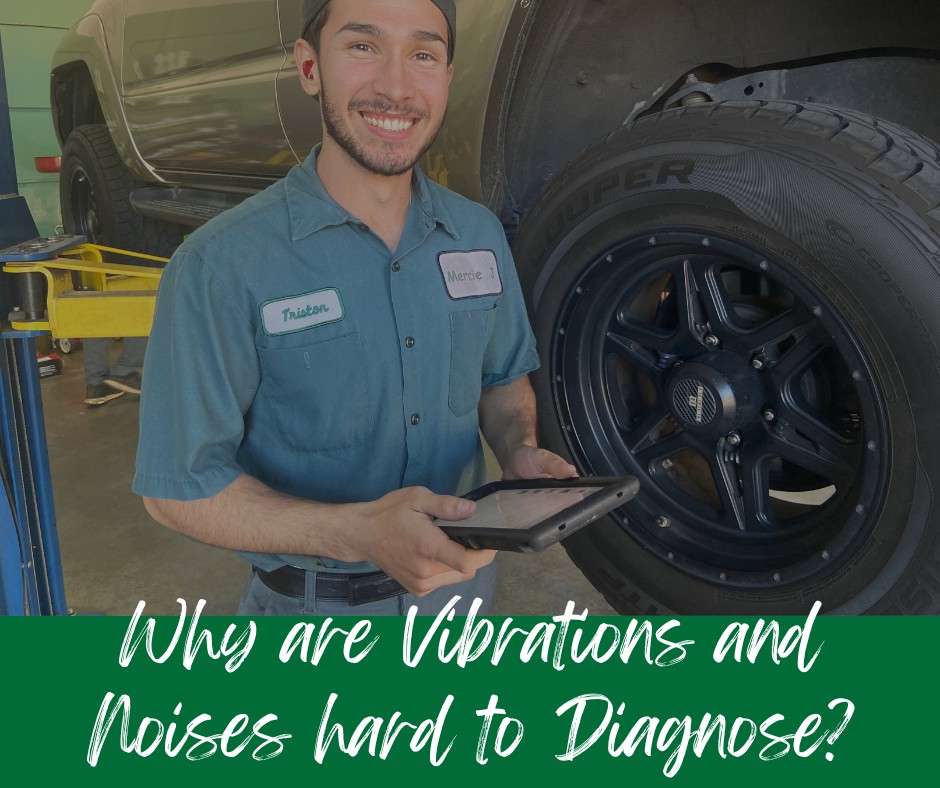 We recently shot a video on the most difficult things to fix on a car. Today we like to address one of those, vibrations and noises.
We recently shot a video on the most difficult things to fix on a car. Today we like to address one of those, vibrations and noises. Welcome to Mercie J auto care where compassion and craftsmanship come together. I'm Rick Smith, master certified technician. A ton of money is spent every year chasing down the wrong noises or the wrong vibrations and people spend a lot of money and still don't solve their problems. So it's important for a shop to have very specific processes to solve those and the right tools are helpful as well. I'll just give you a couple things that happens with us. Number one is we don't like to address any vibration or any noise unless you show it to us. The best thing you can do is show the shop what you're experiencing. Often times with a noise, the car will have multiple noises, so you need make sure it's the noise that is bothering you that you address. With noises, we have a couple of things that we can use. We can use a stethoscope and we can either have it as an open hose (testing 123) or we could have a stick on it that can listen to different things on parts. Some noise complaints are even more difficult to diagnose because they only happen while you're driving down the road. One of the tools we like to use, I think the common name for this is called Chassis Ears. This tool has a number of microphones and we can attach them to different points on the car and then they send a signal to this and we turn this on and then we can listen to each of those channels and hear where the noise is and then we can keep moving the microphones around until they get to the location. Vibrations can be a little bit more difficult. Sometimes you have to tighten things, unbolt things, do different things. Bottom line is having good processes for those will help save you money. It's hard to bite to the diagnostic fees at first because you feel like wow why am I paying for something you could just look at, but in the end it'll save you some money. So I hope this is been informational to you on why vibrations, and noises are so difficult to resolve. Until next time, safe travels and blessings to you.
_________________
Thank you for visiting Mercie J Auto Care in Mesa serving: Mesa, Gilbert, & Apache Junction, AZ where we love our customers and their kids! Expect Hot Wheels Racing, Great Customer Service & Excellent Mechanics who know how to fix anything that comes through these bay doors! Our goal is to have everyone of EVERY age to leave happy!
Schedule your appointment today (480) 830-9445 or REQUEST APPOINTMENT HERE.