What are the most difficult auto repairs?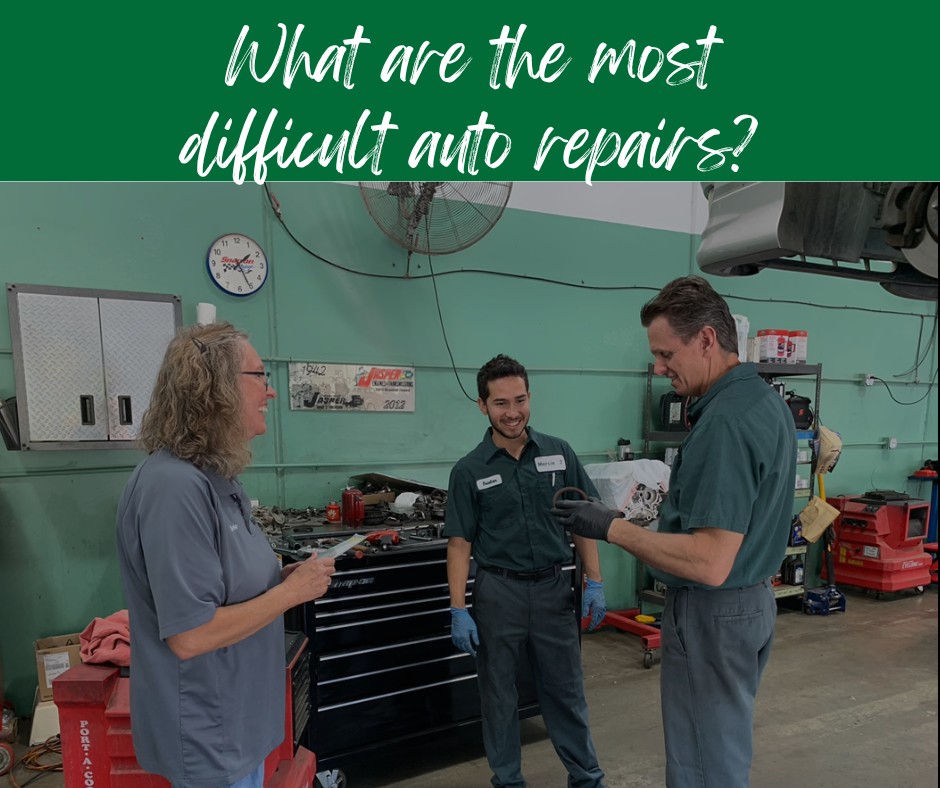 "What are the most difficult auto repairs?"
"What are the most difficult auto repairs?" Welcome to Mercie J Auto Care, where compassion and craftsmanship come together. I'm Rick Smith, master certified technician. Now we're gonna have to shoot a couple of videos to address this because there's actually three things that I would label as the most difficult things to repair on an automobile. Number one is intermittent or random issues. If they're not happening at the moment, they can be very difficult to diagnose. Sometimes guessing or whatever can end up costing the consumer a lot of money. There's some things that you can do to help with that and we will give you a video on that. The next one would be oil leaks. Oil leaks, partially because we can't see very well and partially because if they've been there a while, they can make a big mess get misdiagnosed quite a bit. So special shop procedures are important on that. The third one would be vibrations or noises. Those can be very difficult to chase down and if the proper procedures aren't used on those either, a lot of money gets spent going down the wrong road. I'll shoot videos on each of those to help you know how the best way to handle those as a consumer and how you can help the shop solve those problems and cost you the least amount of money to get your car back as quick as possible, so stay tuned for the next videos. Until next time, safe travels and blessings to you.
_________________
Thank you for visiting Mercie J Auto Care in Mesa serving: Mesa, Gilbert, & Apache Junction, AZ where we love our customers and their kids! Expect Hot Wheels Racing, Great Customer Service & Excellent Mechanics who know how to fix anything that comes through these bay doors! Our goal is to have everyone of EVERY age to leave happy!
Schedule your appointment today (480) 830-9445 or REQUEST APPOINTMENT HERE.