Does the Cold Weather Affect your Car Battery?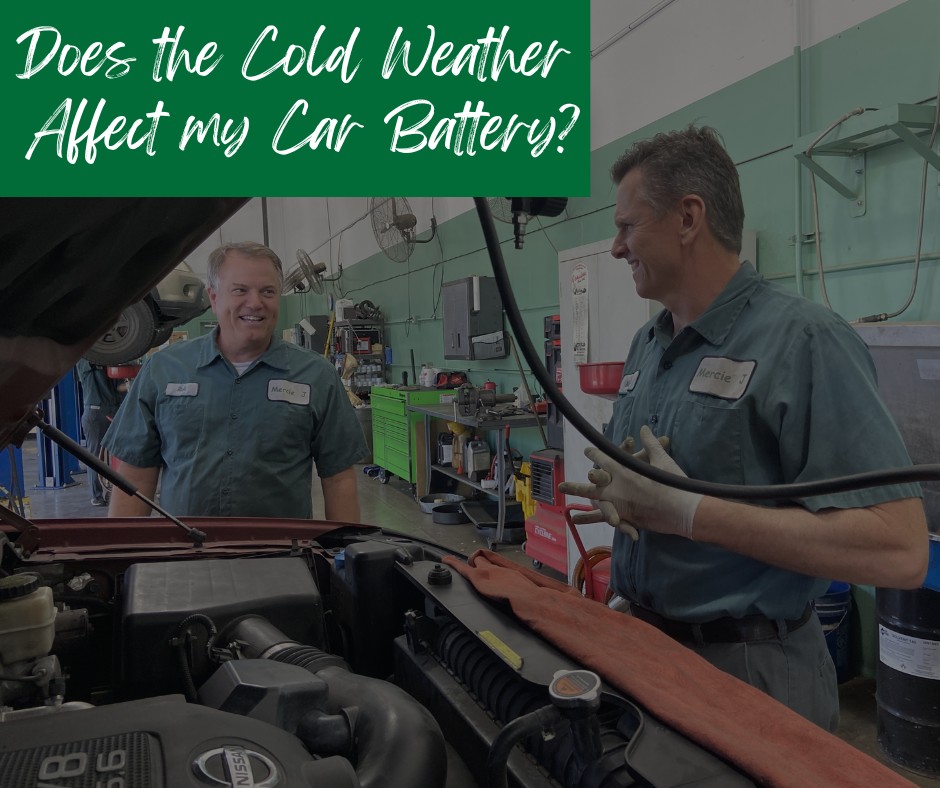 One of the questions trending right now is "Does the cold affect your car battery?"
One of the questions trending right now is "Does the cold affect your car battery?" Welcome to Mercie J auto care, where compassion and craftsmanship come together. I'm Rick Smith, master certified technician. First, a disclaimer would be that here in Phoenix, Arizona I don't necessarily know that we know what cold is. There is a couple things that can happen in colder weather. Inside your battery, if it's a lead acid battery, it has a liquid called electrolyte and if that gets too cold, the voltage in the battery will drop and it won't perform as well. The bigger factor that happens during the winter is engine oil thickens as the temperatures drop and when it's thicker, it becomes harder to turn that engine over until the starter has to work harder and it pulls down on the battery voltage a little bit more. That's why typically you might have a little bit slower crank, a little bit of trouble starting the car when it's cold. If you live in a very cold climate that's why when in the wintertime comes, you probably want to make sure you have a really good strong healthy battery. Here where we live, you can probably get away with it because our overnight lows are higher than most of the rest of countries high for the day. So I hope this is been informational for you until next time safe travels and blessings to you.
_________________
Thank you for visiting Mercie J Auto Care in Mesa serving: Mesa, Gilbert, & Apache Junction, AZ where we love our customers and their kids! Expect Hot Wheels Racing, Great Customer Service & Excellent Mechanics who know how to fix anything that comes through these bay doors! Our goal is to have everyone of EVERY age to leave happy!
Schedule your appointment today (480) 830-9445 or REQUEST APPOINTMENT HERE.