Ellen's Road Trip Story With Dad!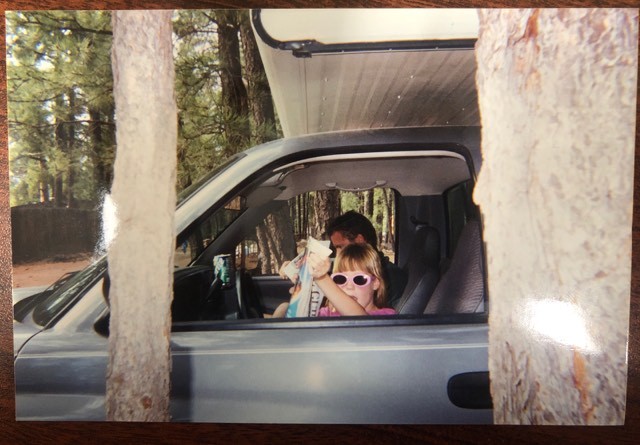 Four foot, three inches tall and I could not see over the dash of our 94' single cab Dodge truck.
Four foot, three inches tall and I could not see over the dash of our 94' single cab Dodge truck. This made road trips to the cool pines long and monotonous. I was your typical "Are We There Yet?" asking kid, except I was right there in the front middle seat. (and you thought your backseat kids were obnoxious)
Once we got to our destination on the Rim up North and all set up at our campsite, it was my turn for a road trip adventure! My dad let me sit in the driver seat of the cab and pulled out paper maps and a road trip atlas and we decided all the places we were going on our imaginary road trip. He would instruct me when I had to turn left or right, making sure traffic was all clear. Although I was a very distracted driver, studying maps with one hand on the steering wheel, my dad played it cool reminding me to look out for wildlife crossing the highway. Gas was not a concern, we never even had to stop at a gas station. We even went through a drive through to grab a snack and a soda, courtesy of my mom bringing us one from the camper in the back. It was pretty sweet. We spent several carefree hours traveling different states and different climates. Even though we never left the same physical spot, my imagination had taken us so many places.
The best part of the entire trip was how seamlessly my dad caught the visions of my imagination and played right along. He is the best dad a girl could ask for.
_________________
Thank you for visiting Mercie J Auto Care in Mesa serving: Mesa, Gilbert, & Apache Junction, AZ where we love our customers and their kids! Expect Hot Wheels Racing, Great Customer Service & Excellent Mechanics who know how to fix anything that comes through these bay doors! Our goal is to have everyone of EVERY age to leave happy!
Schedule your appointment today (480) 830-9445 or REQUEST APPOINTMENT HERE.